There are plenty of weed infused drinks on the market, but disappointingly many of them don't contain any THC and won't get you high.
Some brewers are adding cannabis terpenes to their beer. Terpenes are organic molecules present in cannabis that give it the distinctive smell. Although terpenes don't have any psychoactive effects, they bind to the same cannabinoid receptors in the brain as THC and have anti-inflammatory and anti-anxiety effects. Terpenes are also present in hops, which is why brewers see them as complementary to the flavors of beer.
Cannabidiol (CBD) is also being added to drinks because it's been shown to have anti-inflammatory, anti-nausea, anti-oxidant and anti-anxiety effects. Even though CBD has many positive effects, like terpenes it won't get you high.
These type of drinks have their place, but sometimes it would be nice to enjoy a marijuana beverage with actual THC so it has a proper kick! Never fear, we've been on the hunt and found these 6 THC infused drinks for sale that will actually get you high.
Brewbudz cannabis infused coffee, tea and cocoa pods
Brewbudz are producing fully compostable coffee, tea and cocoa pods infused with cannabis. Instead of just adding THC and CBD concentrate to their coffee, Brewbudz has developed a patented system that extracts all the compounds from the flower which means you get the full entourage effect of synergy between THC, CBD and terpenes in your coffee.  The combination of coffee and weed is nothing new, but this is one of the more interesting THC infused drinks we've come across.
The pods are available in 10, 25 and 50 milligram doses of THC.
Potshotz marijuana mixers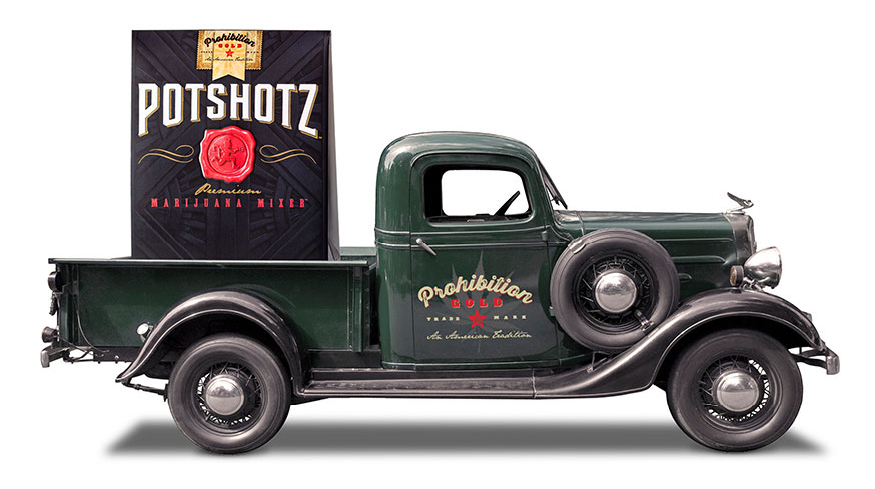 Potshotz by Prohibition Gold are the worlds first legal marijuana mixer. Basically they're weed powder packets that you dissolve in your drink. We haven't tried these, but Prohibition Gold claim the packets work well in any hot, cold or carbonated drink. Each packet is a single serve and contains 10 milligrams of THC which is a pretty low dose for any experienced weed lover.
Somatic cold brew cannabis infused coffee
Somatik cold brew cannabis coffee is the second of our weed infused drinks based on coffee. It comes in an 8 oz bottle that's ready to drink and contains 15 milligrams of THC. Nothing can beat the relaxing ritual of caffeine and a morning spliff but the combination of cold brew and a light dose of THC sounds like it could work very well.
Mirth Provisions cannabis infused tonics
Mirth Provisions are producing a range of cannabis infused tonics that combine weed with flavors such as pomegranate, lemon ginger and cranberry. Each flavor is combined with extract from a different strain such as sativa, indica and hybrid and Mirth say that the different drinks will give you a different high based on the strain you choose. They also use supercritical fluid extraction to obtain their oil which ensures all the goodness of the terpenes, flavonoids and other goodness is still present in the oil for the full entourage effect.
Each bottle only contains 20 milligrams of THC but they are pretty delicious so you could always smash a couple.
Sprig THC-infused soda
Sprig THC soda combines 45 milligrams of THC oil with citrus flavors. Because the soda is carbonated, the effects of the THC kick in a lot faster than most weed infused drinks and 45 milligrams is enough to feel it if you drink a full can. They come in single cans or you can also buy 4 packs to make it a party.
Mota cannabis infused beverages
Mota sell a range of weed infused drinks that include teas and cocoa. Compared to some of the drinks on this list they have a nice high dose of THC and are marketed as medicinal rather than recreational. The green chai tea contains 125 milligrams of THC, is delicious and will guarantee you a chill evening and a good nights sleep. The canna coca version even comes with marshmallows which is a nice touch. They're not weed infused marshmallows unfortunately.